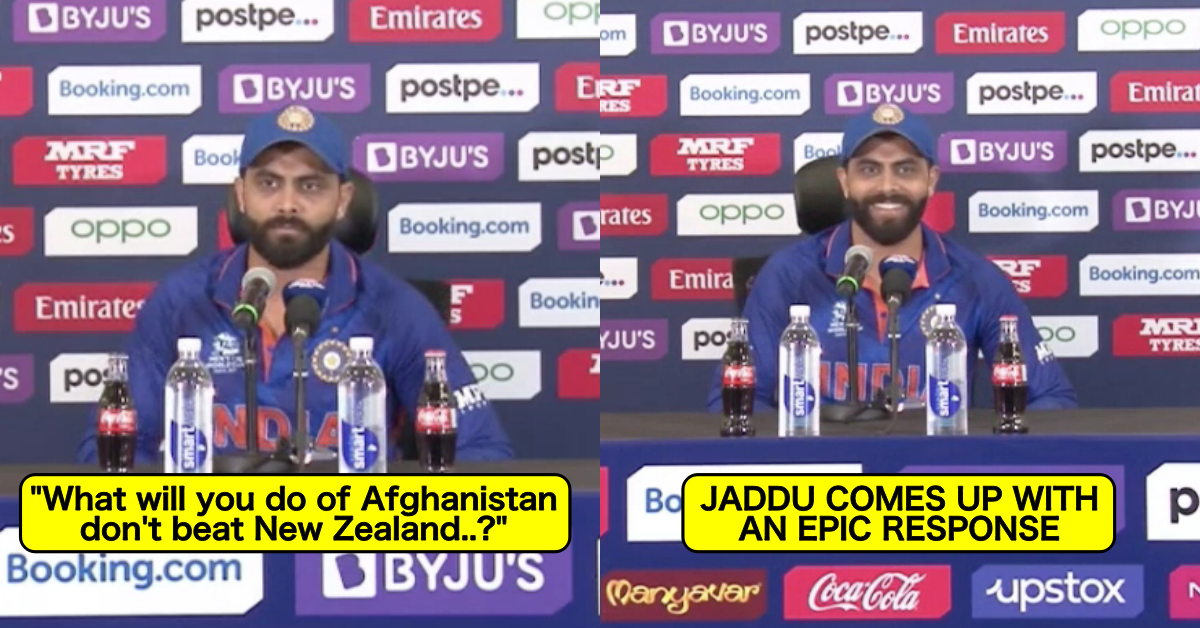 Ravindra Jadeja's epic response after reporter asks what he'll do if Afghanistan doesn't beat New Zealand
Indian all-rounder Ravindra Jadeja had a funny response to a reporter's question during the post-match press conference on Friday. The Indian team beat Scotland by 8 wickets in a Super 12 match in Dubai.
After the game ended, Jadeja attended a press conference where he was subjected to a funny question from a reporter. After the victory, he was asked:
"Everyone says we will have a chance if Afghanistan beats New Zealand. What will you do next if Afghanistan doesn't beat New Zealand?"
For context, the Afghans need to defeat the Black Caps in their final group game for India to have a chance to advance to the semi-finals. If Kane Williamson's men manage to win the match, India will be eliminated in the group stage itself.
In response to the reporter's question, Jadeja offered a funny but straightforward answer. He said:
"So what ?…. We will pack our bags and go home."
Watch Ravindra Jadeja's funny response here:
– shirt pants fc (@pant_fc) November 5, 2021
Earlier, Indian bowlers limited Scotland to a paltry 85. Jadeja and Mohammad Shami took identical numbers of 3/15 and Jasprit Bumrah took a few wickets. The men in blue had to chase the target in under 7.1 overs to have a better net run rate than Afghanistan and New Zealand.
Rohit sharma and KL Rahul retained their advantage from the previous game and forged a 70-point partnership in just five times. The platform was set and the formalities completed by Suryakumar Yadav with a sumptuous six.
Also Read – 2021 T20 World Cup: Varun Chakravarthy Thinks Virat Kohli Is India's Burj Khalifa, Compare MS Dhoni To Dubai's Burj Al Arab