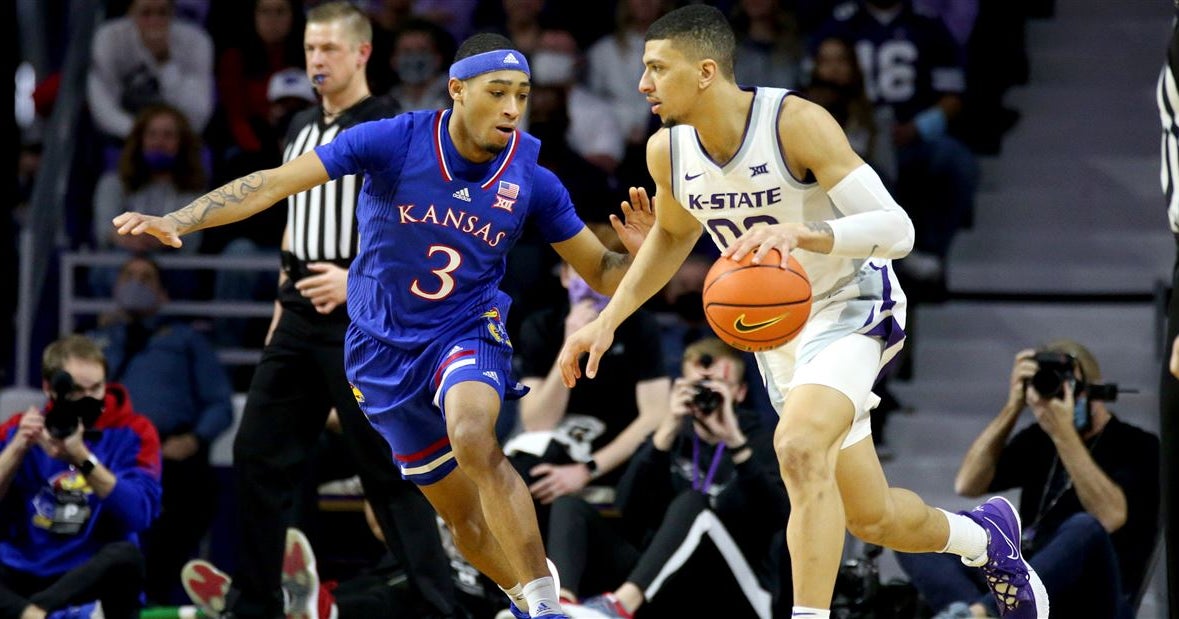 How to watch Texas Tech vs. Kansas
The Texas Tech Red Raiders (25-8, 12-6) will look to win the school's first Big XII tournament title today. To do that, they'll have to go through the Kansas Jayhawks (26-6, 14-4) in Kansas City, Missouri, which is adjacent to the University of Kansas campus. Game tips at 5:00 a.m. and ESPN will handle the coverage.
Unlike Texas Tech's apoplectic 56-55 win over Oklahoma last night, this game, while perhaps just as tense, should be sharper and smoother. The first two meetings between the teams produced average totals of 83 points for Texas Tech and 81 for Kansas. The Red Raiders won Game 1 in Lubbock, while the Jayhawks edged Tech in double overtime in Lawrence.
Kansas is a high-scoring, hot-shot team that features both a superstar – Big XII Player of the Year, Ochai Agbaji – and excellent balance. In addition to Agbaji, who averages 20 points per game, Christian Brown, Jalen Wilson and David McCormack can all do major offensive damage. They average 15, 11, and 10 points per contest, respectively.
In addition to all that scoring ammo, Kansas has one of the Big XII's best triggers in Dajuan Harris. The 6-foot-1 sophomore from Columbia, Missouri, is averaging 4.4 assists and just 1.4 turnovers per outing. He also leads the Jayhawks in interceptions. Harris isn't a scoring threat, but he's definitely Kansas' highball batting power. A true point guard like Harris would propel Texas Tech to the next level.
As a team, the Jayhawks are averaging 78 points per game, shooting 48% from the ground and 36% from distance. They also have a plus-5.3 rebound margin.
Defensively, Kansas is a mixed bag. They guard the 3-point line very well, allowing opponents to connect only 30% of the time from range. But they're forcing a modest — by Big XII standards — 12.8 turnovers per game and giving up 68 points per contest. The Jayhawks are a good defensive team, but are not in the same class as Texas Tech, Oklahoma State, Texas and Kansas State.
Don't look now, but after a pair of wins in the Big XII tournament, the Red Raiders are now 4-1 in neutral-site games, with their only loss coming very early in the season against No. 1 Gonzaga . Texas Tech performed poorly in real road games, but was very respectable in neutral settings.
A big part of Tech's success this season has been about forcing rotations and taking advantage of them. The Red Raiders are No. 17 nationally in forced turnovers and are scoring 17.3 points per game excluding turnovers. This represents 24.1% of Texas Tech's offensive production. Without it, Texas Tech faces an uphill battle.
Bryson Williams, with Ochai Agbaji, is the only unanimous selection to the All-Big XII basketball team. But he was exceptionally quiet in Texas Tech's tournament wins over Iowa State and Oklahoma. The player who has quietly played a critical role in the team's recent success is Adonis Arms. It got hard